May 25, 2015 · Posted in
Actors
,
Norman Reedus
·
Comments Off

on Norman Reedus' succulent booty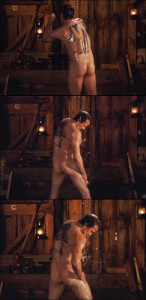 CLICK HERE TO SEE MORE NAKED PHOTOS AND VIDEOS
Who wouldn't love Norman Reedus portrayal as Daryl Dixon on AMC's tv horror drama series The Walking Dead? Norman was immediately noticed by women all over the world for his gutsy and unflinching role as nemesis-turned-sidekick. Before all the hullabaloo and his rise to Hollywood fandom, Norman worked as a regular employee at a Harley Davidson shop in California. Aside from this, Norman is pretty much an artsy person for he is a painter, sculptor, photographer and video artist all rolled into one. We know the demand for seeing Norman in all his naked glory so why don't you check out this nude photo fully exposing his butt? It's not really nudity at its best but close enough at the very least.